What is the Return on Investment of a Quality Management Solution?
From personalization and performance to familiarity and flexibility — there are plenty of reasons to love Dot's products.
Understanding the Financial Aspects of eQMS
A cloud-based Electronic Quality Management Solution ensures not only a dramatic shift in the way a company runs its business, but is also a catalyst for a cultural change in the way quality is perceived throughout the organization, From the C-level down, quality of culture helps optimize processes, ensure compliance, and drive efficiencies that help fuel innovation.
However, building a culture of quality is often fraught with challenges. The high operational demands, globalization, changing regulatory requirements, constant financial pressures, and lean QA teams makes it challenging to operate effectively, build or maintain the "culture of quality" and drive quality improvements.
The Cost of Poor Quality (CoPC)
According to ASQ, Cost of poor quality (CoPQ) is defined as the costs associated with providing poor quality products or services. There are three categories:
Appraisal costs are costs incurred to determine the degree of conformance to quality requirements.
Internal failure costs are costs associated with defects found before the customer receives the product or service.
External failure costs are costs associated with defects found after the customer receives the product or service. *
The cost of poor quality can be associated with: deviations, CAPAs, complaints, rework, scrap, quality audit findings, recalls, etc. In the article below, we will illustrate that the cost of poor quality goes beyond the non-compliance and operational costs and how an innovative Electronic Quality Management Solution can streamline even the most robust processes, while also reducing operational costs.
Determining the Costs of Savings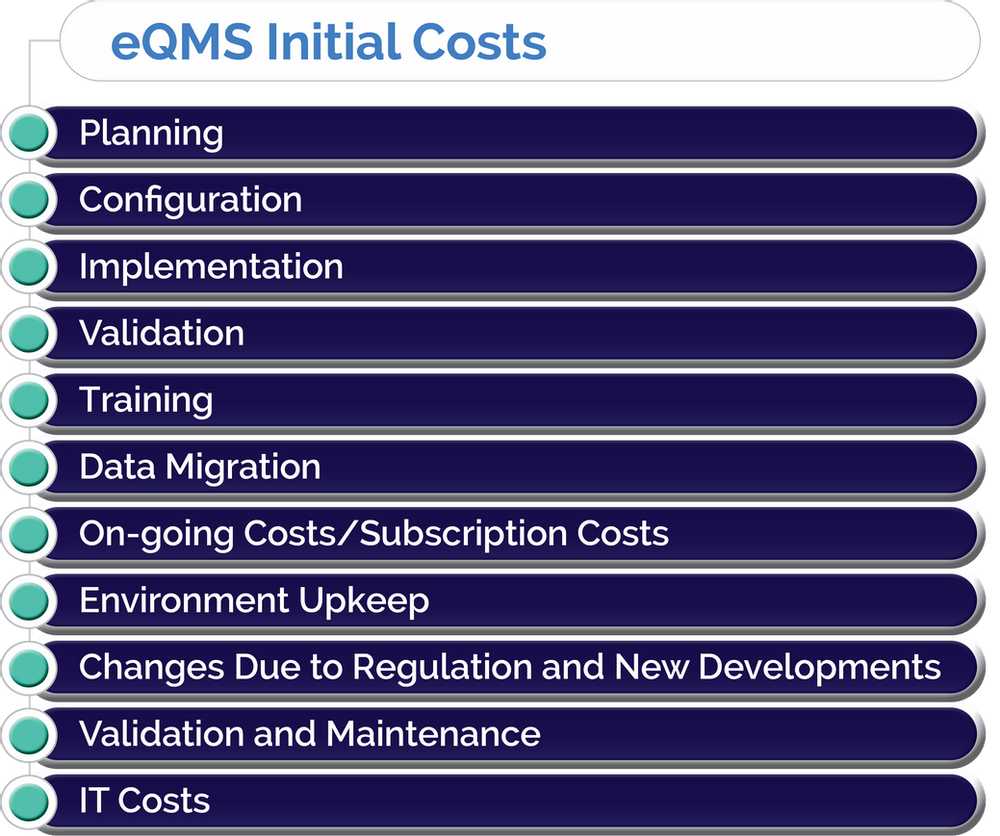 Direct eQMS Savings
These initial costs vary depending on the size of the organization, yet when considering the direct savings an eQMS provides they will almost always outweigh the costs.
Document Revision and Approval – Companies typically spend dozens of man-hours per month approving, reviewing, and maintaining documents. A company with several hundred users could spend 120 man/hours on this process.
The Solution: Clear and efficient workflows that include alerts and reminders, electronic signatures from any device, direct connection to training and R&U approvals, and an efficient reporting system can save between 30-40% of time spent.
Training – Manual processes involve circulating printed SOPs, having workers sign off on approval sheets (which often get lost), and then manually updating the records and each employee's personal file. An organization spends on average, at least an hour per month per employee 30% of which could be saved by using an Electronic Quality Management Solution.
The Solution: With a cloud-based eQMS, you could push a button and have the SOP instantaneously delivered to all relevant employees who can access the document from their computer or mobile device, read and sign off on the R&U, and update the employee's personal record and mark the document as effective once training has been completed. Now think about periodic reviews, group training and having all the information in a dashboard always up to date for monitoring.
Core Quality Processes – The size and scope of responsibility of QA/QP/QAP teams varies according to company size, industry and specialization. However, the burden on each of these employees to manage all quality processes remains constant. What could be achieved if they had more time to focus on improving processes instead of manual, day-to-day administrative tasks?
The Solution: A pre-configured, easy-to-deploy eQMS will help streamline and optimize quality processes. The solution will ensure adherence to regulations and industry standards through strict and clear workflows, up-to-date monitoring, reminders and dashboards, global collaboration, transparency, task assignments, electronic record approvals, and automatic summaries and reports which often reduce TCO by 25%.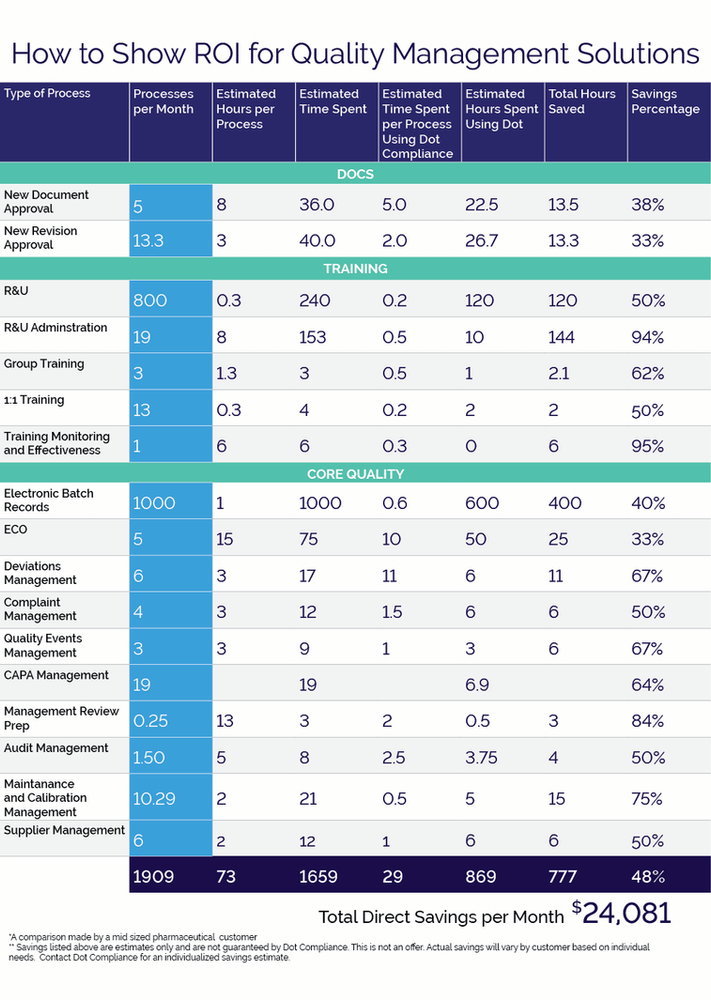 Indirect eQMS Savings
Factoring in the indirect savings due to fewer reworks, recalls, and a reduction of manual, time-consuming tasks, allows employees to focus on the right task at the right time. These indirect savings alone represent approximately between 10-20% of direct savings of an eQMS.
Reputational Savings of Working with an eQMS
One aspect where one can find dramatic savings is the high cost of a damaged reputation when certain quality processes are not followed due to human error. Most emerging life science companies that are using a paper-based or legacy QMS solution run the risk of These could range from a rework due to an internal audit finding, to employee retention issues, through an external audit finding ending up in a slow down to production due increased scrutiny by a notified body, having to employ an external contractor to help resolve an issue all the way to a recall or if the error was critical enough a halt to production in a facility or to lack of confidence in the product or company. While these incidents occur infrequently, they do happen more than we would like to believe, and the repercussions can be insurmountable.
Now is the Time to Deploy an eQMS and Start Saving
It is clear that investing in a cloud-based eQMS will protect your organization's bottom line, and will be used as a competitive advantage in crowded markets. Production costs are lowered, and the product gets out the door faster, safer and more efficiently.
Even when factoring in the cost of implementing and maintaining an eQMS, the savings and efficiencies far outweigh them.
News, articles, and resources, every month.
Subscribe to our newsletter