Top 10 Medical Device Testing Companies of 2021
The medical device industry includes a wide variety of life-saving and quality-of-life-promoting tools and technologies. The range stretches from ophthalmic, orthodontic, and orthopedic devices to active implant, in-vitro diagnostics, and other breakthrough innovations. To ensure the effectiveness and safety of medical devices, national and international regulations must be complied with before these finished products and their components can be released to the public.
In order to satisfy these demands, all medical devices must undergo a range of testing in various areas, depending on the nature of the device. While a certain amount of testing takes place in-house, the bulk of it happens in the well-equipped laboratories of medical device testing companies.
While the medical device testing company landscape is, in its nature, somewhat limited, ten companies stand out in terms of performance and capabilities. In this article, we'll take a look at medical device testing and why it's so important. Then, we'll highlight these industry leaders and the importance of their daily work.
What is a medical device?
According to Section 201(h) of the FDA's Food, Drug, and Cosmetic Act, the term medical device includes a wide variety of equipment that is essential to patient care: instruments, apparatuses, machines, implants, and in vitro reagents, in whole, as well as in component, part, or accessory form.
The European MDR further expands upon this definition, explaining that medical devices do not serve as drugs, but they do aid in the:
Diagnosis, treatment, curing, and/or prevention of medical conditions and diseases
Study of anatomical, physiological, or pathological processes for replacement and/or modification purposes
Collection and preservation of data samples from human patients
The goal of these regulatory agencies is to address all aspects pertaining to medical devices, from their safe and effective use to their accessibility and affordability. Assuring device safety and quality allows as many patients in need as possible to benefit from their high-quality and health-promoting features and capabilities.
It is also important to note that while medical devices may integrate with or interact with electronic patient records, data storage, or other administrative technologies, they do not perform these functions themselves.
What is medical device testing?
Testing is the mission-critical step that ensures a given medical device meets efficiency and productivity goals while adhering to safety and regulatory requirements. To that end, medical device testing involves a series of tests that examine the device's functionality, sterility and validation, compliance with FDA regulations, management of potential risks, and environmental monitoring. In the US, the FDA is the entity charged with performing these rigorous tests.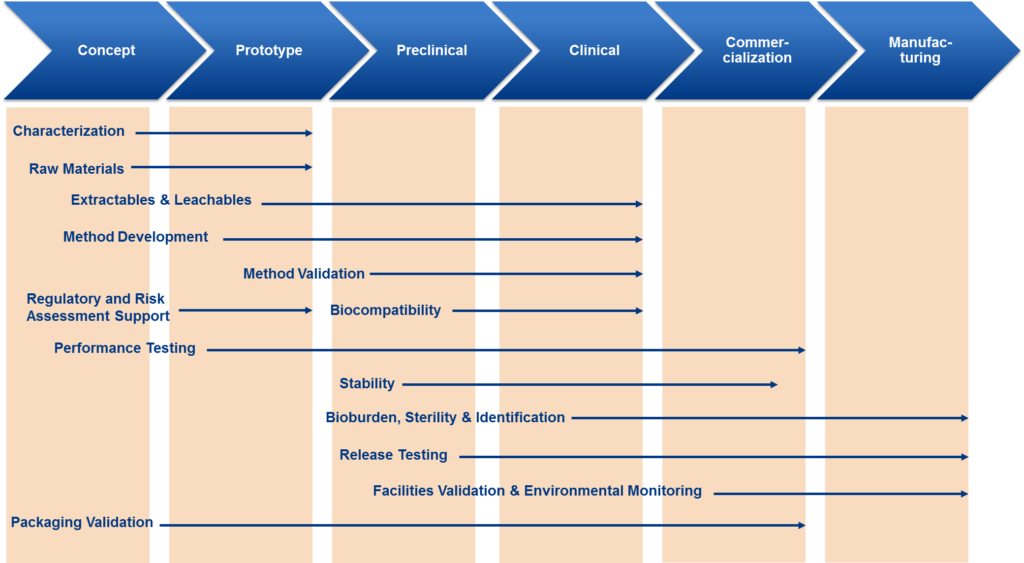 Medical Device Testing Regulations for Compliance
Medical device testing is essential for meeting regulatory and quality standards, government certifications, and to keep healthcare professionals and their patients safe. Leading medical device testing companies determine compliance with the following relevant legislation and regulations:
How can medical device testing companies streamline regulatory compliance?
Using a QMS system can help medical device testing companies stay on top of all relevant regulations and said devices' compliance with them. These ready-to-use solutions help manage medical device quality, compliance, and regulatory submissions. A robust QMS allows medical device companies to mitigate risks and create visibility, traceability, and better performance. It integrates and documents data from the beginning of the design cycle, throughout manufacturing, and even during post-market surveillance.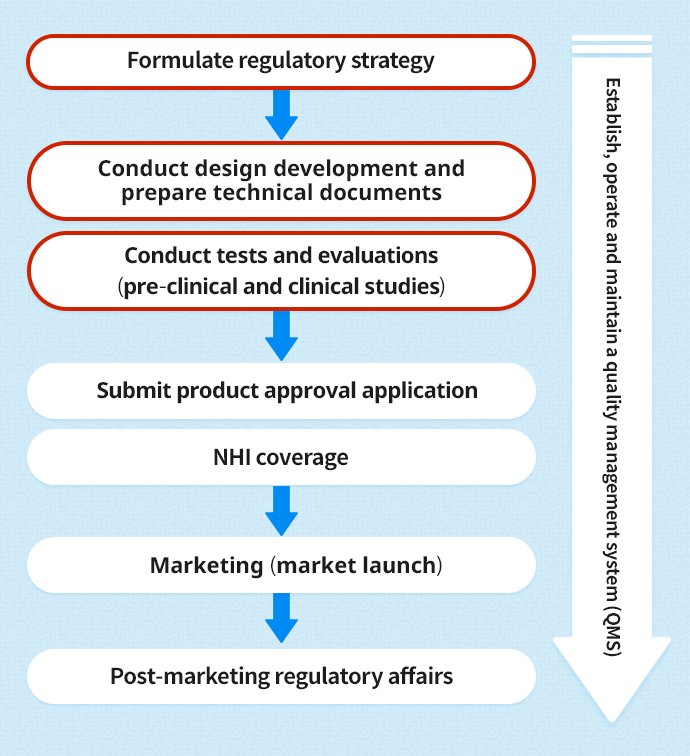 QMS software enables medical device testing companies to automate their quality processes while continuously monitoring, tracking, and reporting on regulatory requirements. Such ready-to-use solutions help mitigate device manufacturing risks while ensuring compliance with regulations such as 21 CFR Part 11, 21 CFR Part 820, ISO13485, ISO9001, and others. In doing so, organizations can better enforce quality and compliance across the entire supply chain and benefit from a faster, more reliable time to market.
Top 10 Medical Device Testing Companies
When your organization needs quality medical device testing, your organization may wish to turn to one of the top ten medical device testing companies of 2021. Listed alphabetically, these companies are at the forefront of ensuring that the latest MedTech innovations meet quality, safety, and regulatory requirements.

DeviceLab is a full-service contract medical device design and product development firm. The company prides itself on its proficiency in providing R&D, development, design, engineering, prototyping, pre-production, FDA regulatory consulting, and product testing of medical devices and instruments for the healthcare and life sciences industry. They work with early-stage and Fortune 100 companies alike and design medical devices for home use, hospitals, and point-of-care environments. DeviceLab's areas of expertise include digital health, wireless, and wearables; lasers and LED technologies; diagnostic instruments; and patient monitors and imaging systems. 

A global leader in materials testing services, EAG Laboratories is a subsidiary of Eurofins Scientific and prides itself on being a thought leader in investigative science. The company's multi-disciplinary approach to contact research and testing optimally enables them to solve the most complex materials and engineering-related product challenges, from identifying various unknowns and contaminants to pinpointing why products fail and reformulating products at scale.

EdgeOne Medical's device development services are among the most comprehensive on the market, with the company's ISO 13485 certified device testing lab being just part of their expansive offerings. EdgeOne supports the full medical device development process. The company's cross-functional product development experts seamlessly integrate and collaborate with any client's team to ensure optimal resource and knowledge sharing throughout the product development and management lifecycles. It's no wonder over 10 of the world's top 50 Global Biopharma and Medical Device firms turned to EdgeOne Medical for their medical device production and testing expertise.

Element is a top provider of Testing, Inspection, and Certification (TIC) services for materials, products, processes, services, and more in the healthcare, pharmaceutical, medical device, antimicrobial, and other "mission-critical" industries. As an independent certifying authority, they offer a full range of certification services, including chain of custody and sustainable supply chain certification, as well as electronic, electrical, and mechanical product certification and approval. Headquartered in London, the company promotes safety, quality, and a high level of service in its US and European facilities. Over the years, Element has acquired several other well-known medical device testing companies, most recently adding Analytical Lab Group to the organization.

Eurofins Scientific has over a century of medical device testing to its name. It also offers comprehensive testing and other services for additional fields, such as food, environment, and pharmaceuticals. Their end-to-end service roster includes medical device safety testing, IEC 60601-1 testing, medical device EMC testing, E&E Notified Body (EU) certification services, FDA submissions, laser safety testing, and battery testing & certification. The company boasts a robust portfolio of over 200,000 analytical methods for assessing biological substances and products' composition, authenticity, safety, and more. This array of services enables Eurofins to achieve high levels of accuracy and provide their clients with top-quality services. 

F2 labs boasts over 25 years of experience conducting EMC and safety evaluations at their ISO/IEC 17025 accredited testing laboratory (by the American Association of Laboratory Accreditation (A2LA), an ILAC signatory). From battery chargers and lighting equipment to medical electrical equipment and wireless gadgets, they are fully able to test and approve a wide range of medical devices, electrical products, and equipment. F2 Labs is on a mission to make the world a safer, more validated place. The company consistently seeks to promote a client-driven culture, pairing unmatched customer service with top-notch, detail-oriented, quality testing. 

A leading, niche, full-service global Regulatory Solutions and Services Company, Freyr Solutions supports life sciences companies of all sizes in their endeavors to comply with medical device regulations across the value chain. From conceiving regulatory compliance strategy, through submissions to post-approval product maintenance and more, Freyr's end-to-end testing and solutions, led by over 1,000 Regulatory Professionals at specialized Centers of Excellence, are what set them apart from the competition. Six of the Forbes Global Top 10 Fortune 500 Life Sciences/Healthcare, mid-market $1+ billion biopharma, and many other CROs, standards agencies, and small-medium companies choose Freyr Solutions for their medical device testing.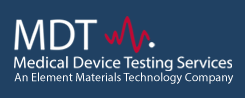 Medical Device Testing Services, also known as MDT, specializes in the mechanical testing and materials characterization of medical devices. The brainchild of the linear motor-driven fatigue system behind modern durability testing, the company has successfully ushered its clients through hundreds of successful submissions to leading regulatory bodies. The company leads the industry in fast turnarounds and prides itself on its ability to achieve transparency and high levels of accuracy from the get-go.

NAMSA is the pioneer of the medical device testing industry, having been founded in 1967. It continues to be the global marketplace leader for dependable, proven testing services. The only 100% medical device-focused, end-to-end Contract Research Organization (CRO) in the industry, the company was recently granted Accreditation Scheme for Conformity Assessment (ASCA) status by the FDA.
Their service roster spans medical device testing, regulatory and quality consulting, and clinical research services. Every year, they conduct over 100,000 tests in cutting-edge laboratories around the world. Unlike other CROs, we take pride in managing all testing programs in-house, ensuring direct monitoring of test items and consistent results that are widely recognized and acknowledged by international regulatory agencies.

UX Firm is a usability research consulting company that prides itself on maintaining an updated knowledge base on relevant medical device companies, client needs, and FDA requirements. They are a boutique consultancy specializing in medical device human factors validation testing. UX Firm has a track record of producing FDA-approved test methods, high-quality formative and summative usability evaluations, and highly thorough reports for 510(k) and De Novo premarket submissions. The company's research can be performed in-house or remotely. This flexibility enables the timely and precise delivery of effective test protocols, evaluations, and reports ahead of FDA submissions, customized to each client's unique needs and regulatory environments.
Putting solutions to the test
Successful medical device testing and certification is the key to ensuring that only safe and effective medical devices that fully comply with leading regulations enter the market. A high-quality QMS system can further augment medical device testing by injecting operational efficiency into the process and connecting disparate processes into a single, end-to-end solution across the supply chain. In this way, medical device testing companies benefit from increased collaboration. They ensure that their organizations and outsourced suppliers gain required visibility, in real-time, from early product development, through manufacturing, and to post-market surveillance.
News, articles, and resources, every month.
Subscribe to our newsletter