Top 6 Necessities You Need From Your eQMS Solution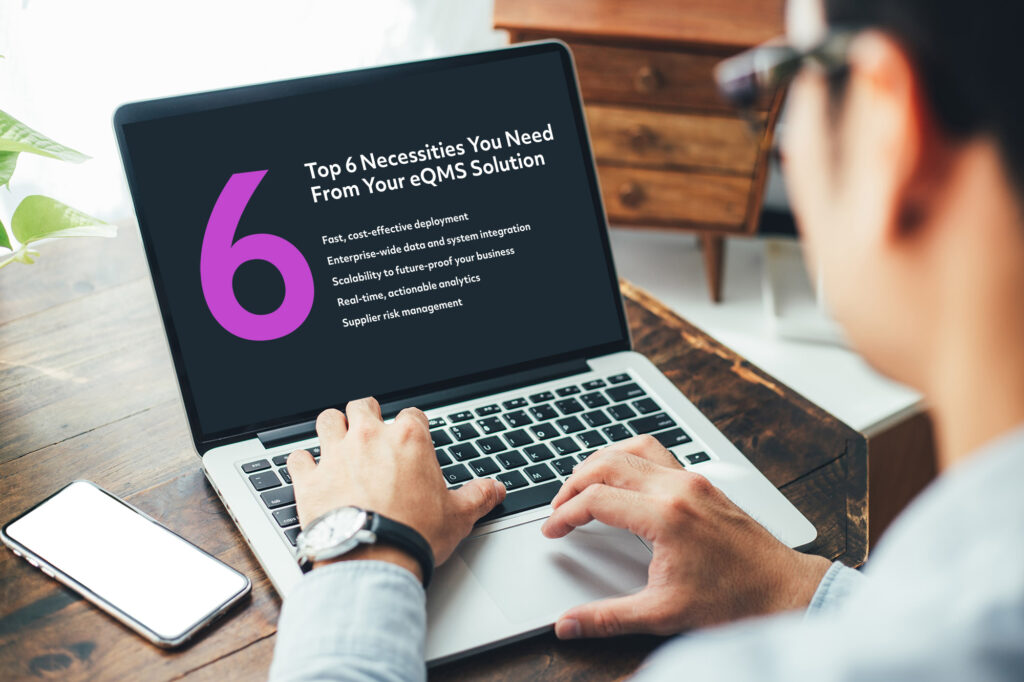 As a life science manufacturer, you are under intense pressure to deliver quality products to the marketplace. Expect the same level of quality from your enterprise quality management software provider. With digital capabilities, including AL and ML, your eQMS should feature capabilities that support all your strategic quality goals.
Here are the eQMS features and benefits that you can't go without in today's complex and challenging business and regulatory environment.
Fast, cost-effective deployment
QMS deployment doesn't have to be lengthy, complex and expensive. Demand a record-fast deployment within 30 days. Ensure the solution features all the capabilities you need at go-live to avoid disruptions to your business, and every aspect of the solution is pre-validated (e.g., processes, documentation) so there are no implementation delays or unexpected costs.
Enterprise-wide data and system integration
To weave what Accenture refers to as a "digital thread" for quality throughout your company's operations, make sure your eQMS seamlessly integrates with all your various functions and workflows (e.g., R&D, manufacturing, customer service, etc.), IT systems (e.g., ERP, MIS, CRM, etc.), and data in one place. It should replace not only your legacy QMS but other redundant systems for a true enterprise-wide approach to quality management.
Scalability to future-proof your business
Research from top analysts and consulting firms point to the need for digital processes that "future-proof" a business. Digital technologies should enable a company to "engage and execute more agilely, effectively, and efficiently to build and sustain competitiveness in an ever-changing market ecosystem." (Enterprise digital transformation as a competitive necessity, Deloitte, 2021). That's why it is critical to select an eQMS solution that is flexible in nature, featuring scalability with robust expandable capabilities so it can seamlessly grow with your company, without added complexity or revenue draining professional fees.
Real-time, actionable analytics
Enterprise quality management software deployed in a digital environment should proactively push real-time actionable insights to your quality team as opposed to them having to track them down. An eQMS that connects your ecosystem's silos and leverages the power of machine learning, IoT connectivity, AI, and big data technology can tell you what course to action to take to stay on course, as Deloitte describes in its recent report on enterprise digital transformation: "Drive advanced analytics and improved insights by applying new technologies such as machine learning, artificial intelligence, and streaming analytics to democratized data to move from descriptive (what happened) to predictive (what will happen) to prescriptive (what should be done) analytics." (Enterprise digital transformation as a competitive necessity, Deloitte, 2021).
Supplier risk management
With the life sciences industry increasingly relying on external suppliers and business partners for product discovery, development, manufacturing and distribution, digital quality processes should extend out to these third parties as well. Think about all the third parties that play a role in your product quality. Do you have visibility into their operations today? What are the limitations of your current QMS when it comes to supplier interactions and oversight? As McKinsey and Company states in its October 2022 report, Reimagining the future of biopharma manufacturing: "Drug and medical device supply chains have become increasingly global, complex, and opaque as more pharmaceutical and medtech companies outsource major parts of production to suppliers and contract manufacturing organizations (CMOs). Against this backdrop, it is critical to have a robust supplier quality program that can proactively identify and mitigate supplier risks or vulnerabilities before they become material issues."(https://www.mckinsey.com/industries/life-sciences/our-insights/reimagining-the-future-of-biopharma-manufacturing)  Select an eQMS that brings outside stakeholders into the fold. With visibility into their quality operations and data, you can enforce your company's quality standards and quickly take action to prevent deviations and subsequent failures.
Regulatory compliance
It seems obvious that an eQMS should enable your company to comply with FDA and global regulations, but don't take it for granted. There are solutions providers with generic eQMS for other industries that attempt to adapt their platforms to the life sciences. While on the surface they may appear to have the needed capabilities for quality management, a deeper dive reveals failures to meet the stringent requirements of the FDA and other regulators. There are aspects of quality management that extend across various industries, but when developing products used in patient care, the stakes are far higher than a company producing consumer products.
Ensure your eQMS provider has a specific focus on the life sciences, experience successfully supporting manufacturers in this space, and has a solution that enables compliance with FDA, International Organization for Standardization (ISO) and Good Clinical, Laboratory, and Manufacturing Practices (GxP) regulations.
To learn more about different ways companies should embraced digital technologies throughout their operations, read this whitepaper "QMS Journey to Intelligent Digitalization".
News, articles, and resources, every month.
Subscribe to our newsletter