The Ultimate Guide to 21 CFR Part 11 QMS
FDA 21 CFR Part 11 is a rule that specifies how businesses that are subject to FDA regulation, such as those in the medical device, pharmaceutical, and other industries, should manage their electronic records and electronic signatures.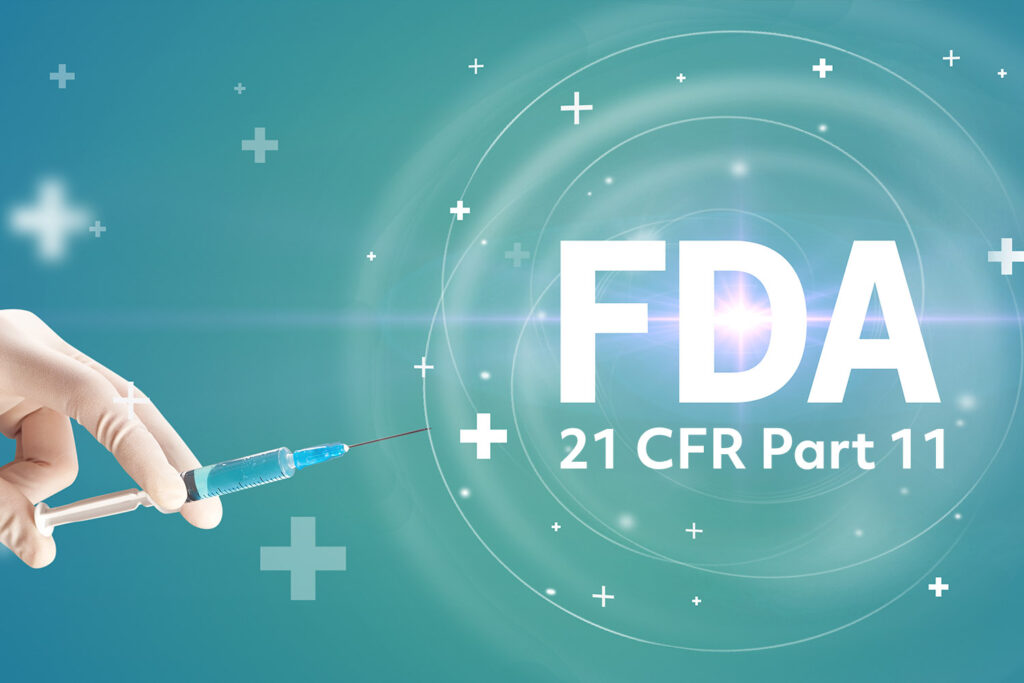 Organizations must abide by several rules and different sets of criteria that are specific to the life science industry. Some businesses still have trouble properly adhering to 21 CFR Part 11 rules, nevertheless.
The Code of Federal Regulations, Title 21, Part 11, sometimes referred to as "Part 11", is a set of rules that describes the requirements for electronic records and signatures. The law specifies the standards under which electronic records and electronic signatures are deemed trustworthy, reliable, and comparable to paper records and handwritten signatures in section 11.1 Scope (a). Simply put, the law specifies how electronic records from Electronic Quality Management System (eQMS) and other quality-critical applications should be handled.
Computer Systems That Require Compliance to 21 CFR Part 11
Compliance with 21 CFR Part 11 is required for any computer systems used to store quality-critical data or to make decisions regarding quality. Additionally, any system utilized to provide data to the FDA must comply with Part 11. Systems that control deviations and CAPAs (Corrective and Preventive Actions), or those that are used to assess the quality, safety, strength, and efficacy, or purity of laboratory findings, are a few examples of systems used in the manufacture of life sciences.
How 21 CFR Part 11 will benefit you
The good news is that putting Part 11 into practice should improve your procedure. It will assist you in creating a paperless, compliant QMS, giving you the means to deliver safer, more effective products in a more organized manner. However, the standard for digital compliance is very high. Many manufacturers choose to keep existing paper-based systems rather than deal with the turmoil of a total digital revamp since the effort frequently appears too overwhelming for them.
It's true that you'll require extremely specific tools, techniques, and procedures to comply with the legislation. Setting them up and ensuring they are operating as they should takes time. But after you've done so, your company will be able to work together more productively and efficiently, and you'll be able to convince the regulator that your products were made in accordance with the rules more readily.
7 critical requirements for 21 CFR Part 11
1. Data integrity
In accordance with Part 11, you must have digital procedures and safeguards in place to guarantee the authenticity, integrity, and, where necessary, the secrecy of electronic forms/documents. The regulation's goal is to ensure that the data and information you gather, share, and use to construct your product is accurate, traceable, suitable for its intended use, and secure from theft or unauthorized use. The risk of product failure will be reduced by implementing all the controls mandated by Part 11, avoiding harm to end users and the expense of fixing errors or paying fines for compliance violations. A wise investment, indeed.
2. Data retrieval
According to Part 11, you should be equipped with the necessary safeguards for your records "to enable their correct and ready retrieval during the records retention term." You will benefit from managing your development process's records such that they are perpetually preserved, indexed, and accessible whenever needed.
Effectively audit your own system to look into and proactively look for non-conformities and concerns.
Track and monitor the "root causes" of any systemic non-conformities that are discovered; support external audits; and rapidly address regulatory inquiries to maintain your company's compliance.
3. Validation
Part 11 states:
"System validation to guarantee precision, dependability, and intended performance"
To put it another way, you should explicitly specify how each component of your system is to operate, then create test procedures to ensure it is operating as it should. The process of validating your QMS will show that it is suitable for purpose and give you and the regulator confidence that you can produce goods to the requisite standard, despite the fact that it may seem demanding.
4. Audit Trails
Part 11 mandates that you maintain a complete version history for each quality document in your system using the:
"Use of time-stamped, computer-generated audit trails that are secure to independently record the date and time of operator operations that add, edit, or remove electronic document".
You may have total traceability and responsibility over every choice that is made throughout a development process by documenting every modification and sign-off event in detail, including the author, time, and date. Instead of employing a paper-based system, it will facilitate quicker and more accurate auditing and investigation operations.
5. Operational Controls
"Use of operational system checks to ensure permissible sequencing of steps and events, when appropriate," is required by Part 11.
As you manage the development cycle, having the ability to build up automated workflows for the gathering of approvals and signatures will provide you more control over people and processes. They can make sure that important papers are gathered together before being evaluated by particular people at particular points in your strategy. Part 11 reduces the possibility that a firm will make expensive mistakes by bringing order and clarity to otherwise complicated procedures.
6. Security Controls
The restrictions you require for access and editing permissions within your system are outlined in Part 11. The rule has a number of stringent criteria to avoid unintentional data loss and deletion as well as security breaches that might affect customers, lead to business failure, and result in regulatory fines.
7. Electronic signatures
Notably outlined in Part 11, the rules for the use of electronic signatures.
As part of an ongoing and traceable audit trail, Part 11 mandates that e-signatures applied to documents must include the printed name of the signer, the date and time the signature was applied, and the "meaning" or intention of the electronic signature. However, there are still more prerequisites.
The authentication standards for digital approval have been significantly tightened under Part 11 in an effort to equal the degree of legal confidence provided by a "wet signature." High levels of digital document control and workflow management are necessary to implement the procedures you'll need to put in place to provide identification and protection against falsification.
Currently, it would be far simpler to forge a pen and ink signature on a test result than it would be to do the same with an electronic signature in accordance with FDA regulations. Nevertheless, despite the difficulty, there are clear advantages to doing away with wet signatures. Remote signature collection can cut down administrative time from days to weeks to hours and minutes. The degrees of accountability and traceability that an e-signature system can provide, meanwhile, will make future auditing and investigative activities much easier and faster.
Finding an electronic Document Management System (eDMS) flexible and robust enough to handle the technical 21 CFR Part 11 requirement while you establish your quality system makes sense for companies looking to join the cutthroat and lucrative US market. It will make the potentially terrifying process of digital compliance faster and a lot simpler. However, the investment will be worthwhile for a variety of other factors as well. The ideal solution will increase the rigor and effectiveness of your whole development process, enabling you to save costs, produce better products, and reduce the likelihood of failure.
21 CFR Part 11 QMS with Dot Compliance
Dot Compliance is aware that many smaller life science organizations may believe that adhering to 21 CFR Part 11 requirements is time-consuming and difficult, but it doesn't have to be. The data and documents you gather are utilized, signed, managed, and kept appropriately and securely thanks to simple-to-deploy cloud-based solutions. In the field of life sciences, data integrity is crucial. The science, not the management technique, will be at the forefront of the company's efforts if the procedures comply with these FDA standards.
Download Dot Compliance's 21 CFR Part 11 Compliance Checklist for FREE
News, articles, and resources, every month.
Subscribe to our newsletter