QMS 101: Quality Management System (QMS) for Manufacturing
Manufacturers may electronically monitor, control, and record their quality processes with the use of a quality management system (QMS), which helps to verify that goods are produced within tolerance, in accordance with all relevant standards, and are free from defects. The techniques, processes, structures, and resources required for streamlining manufacturing and ERP operations while controlling quality concerns cost-effectively are provided by quality management system (QMS) software.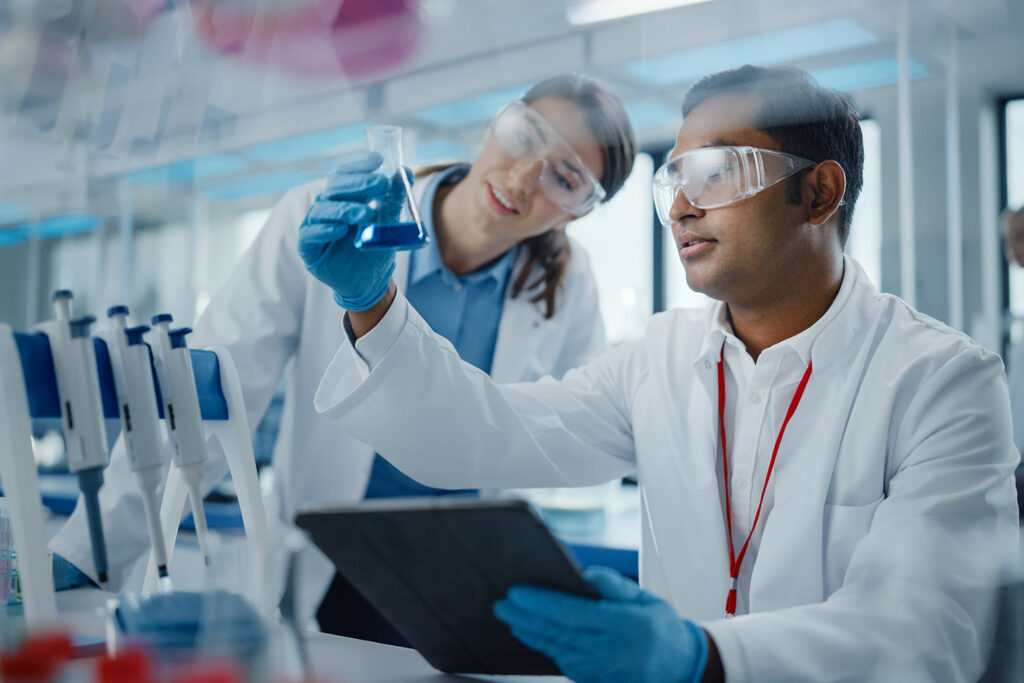 Effectively integrated Quality Management Systems (QMS) are able to see potential issues before they become quality problems as part of a closed-loop quality process that proactively monitors events from any business source. Events might include problems with suppliers, manufacturing nonconformances, customer complaints, employee training, etc.
Quality Management Systems (QMS) may integrate directly with Manufacturing Execution Systems (MES) and manufacturing intelligence to ensure compliance with corporate and industry regulations and to support quality programs like Lean and Six Sigma in addition to monitoring processes and proactively monitoring quality events. As a result, a QMS helps in preventing incidents and consistently enhancing product quality through a closed-loop approach.
Quality Management Systems (QMS) are integrated into preventative capabilities in these unified settings, making it simpler for the solution to monitor and even predict occurrences from any global production or non-production source. Quick detection, containment, risk assessment, corrective action, and preventive measures are provided by the Quality Management System for manufacturing, which an integrate with MES and factory information. As a result, the frequency, extent, and effect of quality recalls are reduced.
QMS manufacturing in Pharmaceuticals
The pharmaceutical sector places a lot of importance on the quality management system (QMS) when complying with ICH Q10. A strong QMS is essential for all business sizes, whether they be small, mid-sized, or big, when it comes to the life sciences sector in general and the pharmaceutical drug manufacturing sector in particular. It is no secret that the aforementioned businesses have extremely tight standards and inspections, and there are challenges in pharmaceuticals. A proper Quality Management System is required to support multiple processes in order to successfully produce high-quality pharmaceuticals, which is a major responsibility.
The latter should concentrate on addressing client-specific needs and raising client satisfaction in the most affordable way possible. The design and development of the quality management system (QMS) for the pharmaceutical business takes into account a number of variables, including organizational goals, operational procedures, and quality policies and regulations. The quality policy especially in the pharmaceutical, biotechnology, and medical device sectors of the life sciences industry must comply with and adhere to regulatory standards including 21 CFR Part 11, 21 CFR Part 820, cGxP, ISO 13485 and ISO 9000.
What are the 7 principles of QMS?
The ISO 9001 international standard for quality management was created by professionals from all over the world to assist you in putting quality at the centre of your business. The foundation of ISO 9001 is built upon seven fundamental concepts. You will be able to benefit from increased consistency, improved client happiness, and stronger performance by adhering to these principles.
The seven quality management concepts are, in brief, as follows: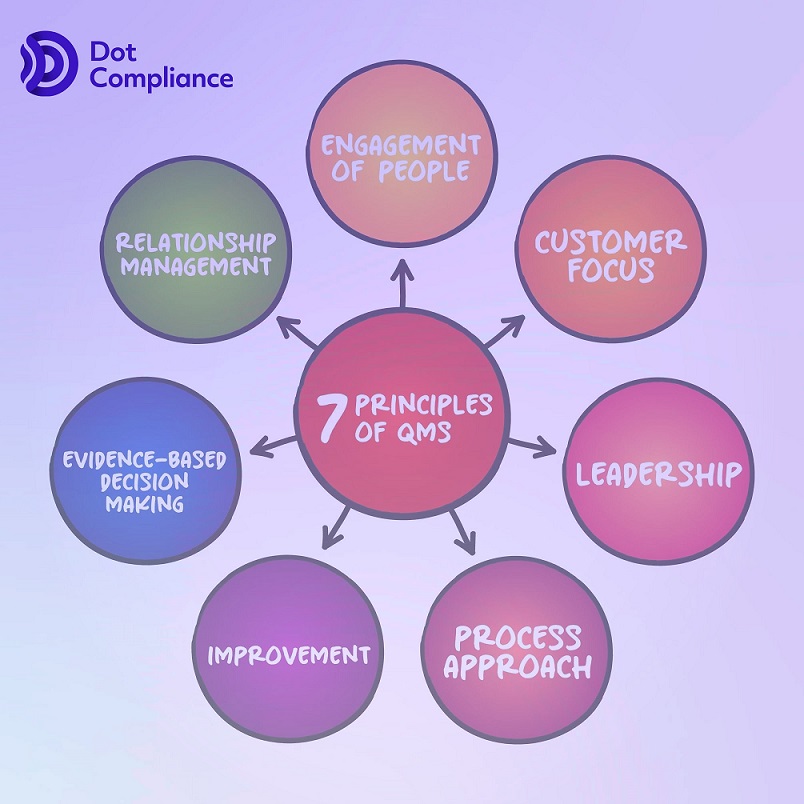 The basis for incorporating a QMS into your company is provided by these well-respected seven concepts. They will eventually assist you in creating superior items and increasing your earnings.
QMS Manufacturing in Medical Device
The FDA's Quality System Regulation (QSR) for managing a Medical Device's Quality Management System is found at 21 CFR Part 820. It describes the suggestions that would finally result in a reliable and efficient medical device. Part 820 lies within the Current Good Manufacturing Practice (CGMP) Regulations.
Due to the wide variety of medical devices, the 21 CFR Part 820 only sketches out the specifications for the design, development, production, distribution, etc. processes; it is up to the manufacturer to decide which requirements apply to their medical device, and to enforce those specified in the manufacturing process.
A close relationship exists between ISO 13485:2016 and 21 CFR Part 820, particularly considering the 2016 revision of ISO 13485, which closely resembles the specifications found in the QSR of the FDA. FDA's proposed rule to align its QSR with ISO 13485:2016 for the new Quality Management System Regulation was published in February 2022.
The primary distinction between the two is that ISO 13485:2016 is a voluntary standard that outlines the specifications for a quality system. FDA, a government agency, is the source of 21 CFR Part 820, therefore disobedience may result in sanctions such as citations, recalls, penalties, and, in exceptional circumstances, legal action. Good Manufacturing Practices (GMP) lie within the FDA regulation. While the FDA is a domestic American organization, ISO standards are widely accepted and adhered to.
The first paragraph of 21 CFR Part 820 Subpart B, discusses managerial responsibility, which contains rules for policies, resources, and planning.
Quality policy – Commit to quality and make sure the business knows, adopts, and upholds it.
Organization – Utilize an organizational structure that is appropriate for the manufacturing of compliant medical devices, including delegating the right tasks to the right people and allocating the resources required to satisfy FDA standards.
Management review – Review the QMS on a regular basis and record your findings.
Quality planning – Planning for quality involves organizing the procedures, materials, and tasks that promote quality.
Quality system guidelines – Establish quality system guidelines and guidelines.
Quality audits are covered under Section 820.22 of 21 CFR Part 820 Subpart B. Manufacturers are required by 820.22 to develop methods for quality audits and to carry out audits on a regular basis. Each audit must be performed by staff members who were not engaged in the inspection, and management must examine the results. Audits are crucial to comply with Good Manufacturing Practices (GMP).
Personnel is covered under Section 820.25 of 21 CFR Part 820 Subpart B. As stated in 820.20, this part specifies the qualifications needed for manufacturers' staff to assure compliance. The provision of training that addresses possible flaws that these employees could see as a result of noncompliant activity falls under this category.
Get success with your Dot Compliance QMS
A QMS is meant to operate as a framework that directs the manufacturing company in reaching quality goals, ongoing improvement, and customer satisfaction.
The best QMS solutions strike a mix between simplicity and flexibility. To have a significant influence on culture, a QMS must be specifically designed to match the goals, market, and compliance requirements of a business. Moreover, every QMS adaptation should provide value without adding extra complexity. Flexibility and uniformity work best in a QMS design. Organizations require a balance between flexibility for ongoing improvement and enough uniformity to deliver consistent results. Contact Dot Compliance now if you're seeking quality management software to assist in laying the groundwork for your QMS.
News, articles, and resources, every month.
Subscribe to our newsletter