QMS 101: Quality Management System Guide
1. What is Quality Management System (QMS)?
2. How Do Quality Management Systems Help Businesses Increase Profitability?
3. Quality Management System Examples
4. Dot Compliance eQMS Essential Elements
5. Ensuring Compliance with ISO 9001, EU MDR, FDA & More
6. Quality Management System Development
7. The Bottom Line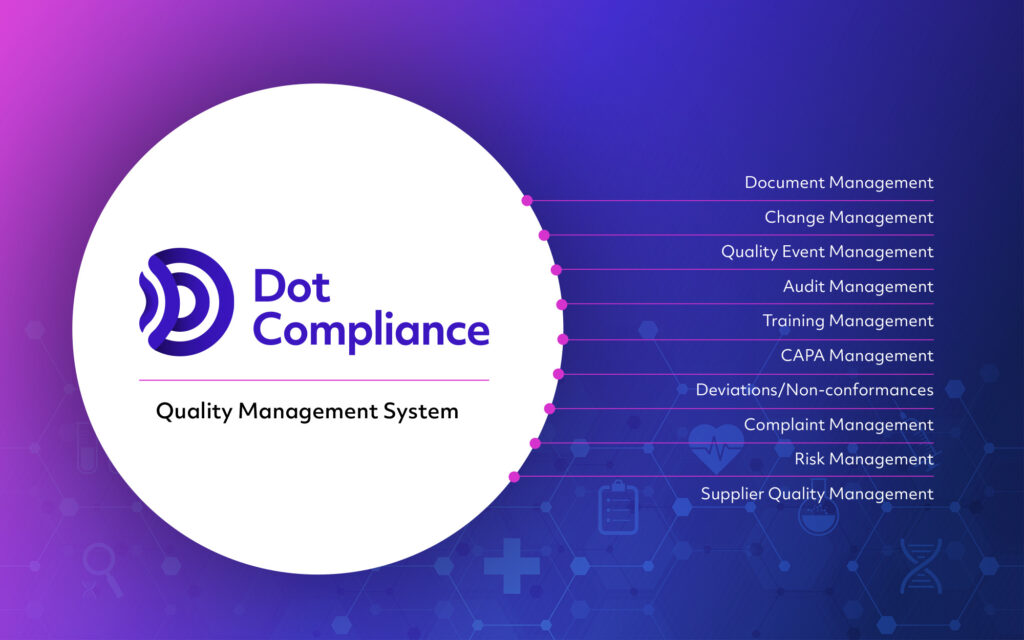 1. What is Quality Management System (QMS)?
A quality management system (QMS) is a codified system (paper or software-based) for documenting roles, processes, and procedures to develop goods that comply with FDA, ISO, EU MDR, and other regulatory standards as well as client expectations. A successful QMS should support your company's objectives by enhancing transparency and traceability from concept through commercialization. Although QMS can be manual, software solutions for quality management systems are far more efficient at removing silos, quality problems, and manufacturing errors by always keeping scattered teams on the same page.
1.1 The Importance of QMS
Systems for managing quality concerns, enhancing product performance, reducing waste, and driving continuous improvement are all provided by quality management systems. To comply with FDA, EU MDR, and ISO regulatory requirements and lower audit risks and outcomes, more and more firms are relying on a QMS.
1.2 QMS Timeline
The development of statistical quality control techniques by engineer Walter Shewhart in the 1920s, which he used to assist firms optimize their manufacturing processes, is credited with giving rise to QMS. During World War II, engineer and statistician William Deming effectively used Shewhart's techniques in manufacturing. Armed forces were able to expedite inspections as a result without sacrificing quality.
The Plan-Do-Check-Act (PDCA) cycle, a crucial part of many of today's quality management systems, was developed as a result of Shewhart's methodologies (also known as the Shewhart cycle).
Japan embraced the idea of quality management in the 1950s and 1960s to revive its economy following the destruction of World War II. For their skill in quality, Deming and Joseph Juran were hired by Japanese firms. Japanese manufacturers were helped by Deming and Juran to create goods of ever-increasing quality at cheaper costs, which resulted in an economic boom in the decades that followed.
The 1980s saw the American economy suffer as a result of Japan's superiority. Total quality management (TQM), which served as the foundation for quality and operational excellence in the United States, was subsequently adopted as a result of this.
Organizations now use Six Sigma and lean manufacturing as contemporary ways to quality management. Enterprise QMS solutions are used by businesses to manage and keep track of all the procedures and documentation that make up their quality system.
1.3 The Best Manual for QMS Software
When creating safe and effective goods, life sciences businesses always put quality first. Companies are charged with optimizing efficiency while satisfying consumer expectations and regulatory obligations in order to maintain a competitive advantage in today's global market. Many businesses rely on enterprise quality management system (QMS) software solutions to fulfill these objectives and deliver high-quality products quickly to market. We explain everything you need to know about a QMS system in this guide, along with the important factors you should take into account when determining the most effective way to set up compliant quality management procedures.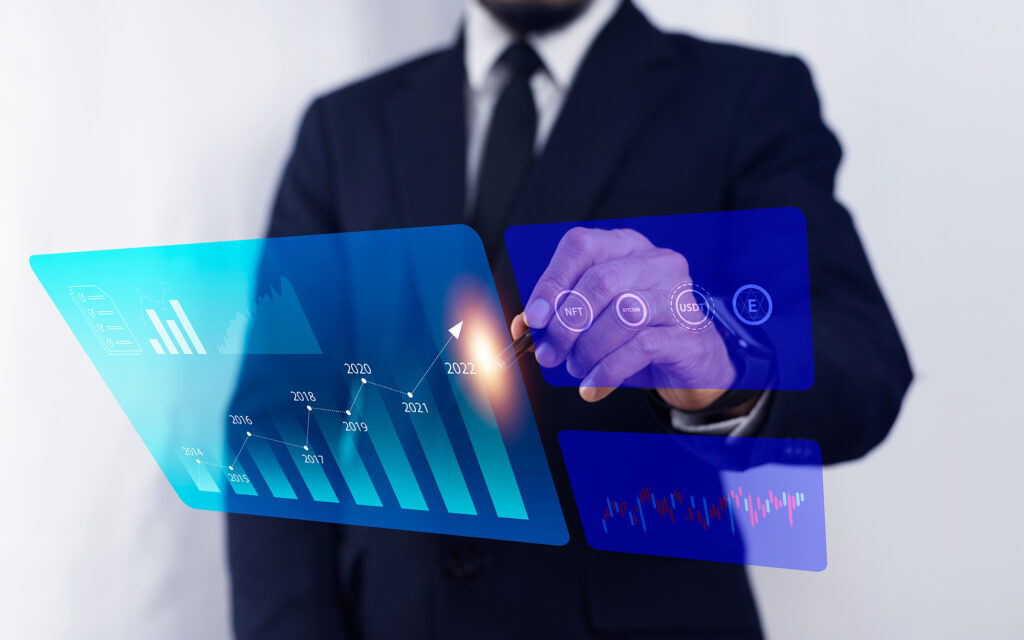 2. How Do Quality Management Systems Help Businesses Increase Profitability?
Although maintaining the highest quality standards rather than maximizing profits is the goal of a quality management system, effective QMS implementation actually aids businesses in dramatically increasing their earnings. Many businesses have effectively increased their profitability in today's business environment by using QMS and benefiting from its unnoticed and often hidden advantages. Among the observable advantages of using a quality management system are;
A rise in production that is quantitative
Optimal resource management for the business
Higher client loyalty and a rise in repeat business are two benefits of excellent customer satisfaction.
Increasing staff morale, which lowers attrition rates and reduces the need to waste time and money on training new hires;
Setting challenging goals that spur development and expansion
An awareness of one's responsibility that encourages open dialogue between all levels of management and employees.
Accurately and quantitatively identifying flaws and gaps in business procedures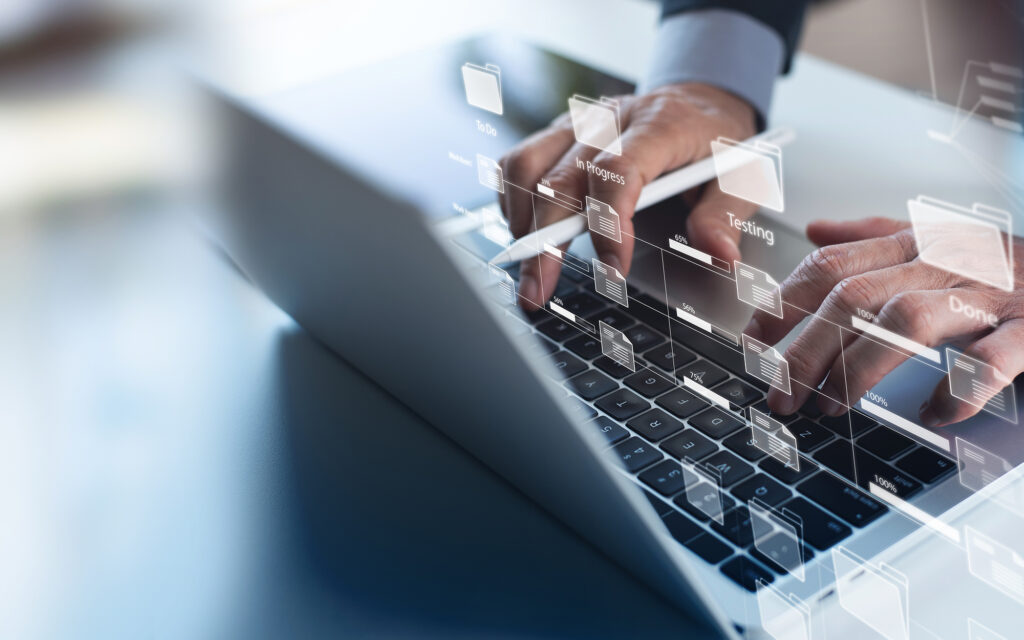 3. Quality Management System Examples
Quality Management Systems, ISO 9001:2015
An international standard for Quality Management systems is ISO 9001:2015. (or QMS). It consists of procedures and techniques to enhance an organization's operations and systems and guarantee compliance with clients and any necessary legal and regulatory standards.
Through the efficient use of the system and operation, it seeks to raise consumers' expectations and levels of satisfaction. Quality goods and services are produced as a result of implementing an ISO 9001 Quality Management System. No matter the industry, kind, size, or scope of the organization, all standards are universal and apply to all of them. ISO 9001 can form the base for any QMS even a Quality Management System for Manufacturing.
Those who require a QMS for Medical Device must meet the requirements of ISO 13485:2016 for regulatory purposes.
An international standard called ISO 13485 was specifically created to outline what a quality management system should include for organizations working in the medical device and healthcare sectors. This standard contains requirements for procedures spanning a medical device's complete lifecycle. It is the heart of Medical Device Regulations.
By implementing risk management in accordance with ISO 14971 :2019 Medical Application of risk management to medical devices, ISO 13485 :2016 Medical devices — Quality management systems provide additional emphasis on the safety and effectiveness of the medical devices.
3.1 Quality Management Obstacles
As we've seen so far, quality management systems offer a number of advantages to businesses. However, as we already indicated, the installation of QMS is a difficult task. In contrast, a poor or ineffective attempt to develop a quality management system might have the opposite effect and cause businesses to decrease their quality and profitability objectives. We'll look at some of the greatest challenges to a successful QMS deployment below.
The Irregular Organization
Document control is undoubtedly one of the most important components of a business, since it is responsible for regulating and controlling nearly all vital business operations and tasks. Disorganization may influence every business component. Any organizational difficulty with document control might cause issues with different business procedures.
Getting over this barrier:
Implementing document control management software is perhaps the simplest solution to solve problems with document control. Document control systems are not created equal, and each has its own special advantages and restrictions, just like any other type of software. Additionally, not every document control software can be integrated with the company's current operating systems. Therefore, be sure to understand your business objectives and goals before using any particular document control program.
More work frequency with fewer employees!
While fiercer competition in the manufacturing sector has forced businesses to significantly raise the quality of their goods or services, this has also brought up a new issue about the uneven amount of effort needed to meet quality requirements. Staff members who are overworked commonly find themselves in many companies, which increases the risk of both quality compromise and accidents.
Getting over this barrier:
Undoubtedly, one of the most difficult problems for businesses is staffing. This is due to the fact that, although the budgetary constraints may prevent increased hiring, overworked workers seriously compromise the ability to maintain quality standards. This is where creativity and "out of the box" thinking are useful. When faced with a situation like this, businesses need to find creative solutions that promote efficient working methods so they may "Do More with Less." Encouragement, awards, and a flexible work schedule may be some ways for companies to maintain the morale of overworked personnel while maintaining quality and productivity standards.
Do you prioritize quality?
The purpose of quality management systems is to provide companies with a solid framework that spells out the rules for achieving business productivity and quality requirements. The secret to a QMS implementation that is effective is striking the correct mix between customization and simplicity. Businesses must identify the appropriate quality management system that will fulfill their compliance needs and quality standards while also having a beneficial influence on the workplace environment, for example, a Quality Management System for Pharmaceuticals.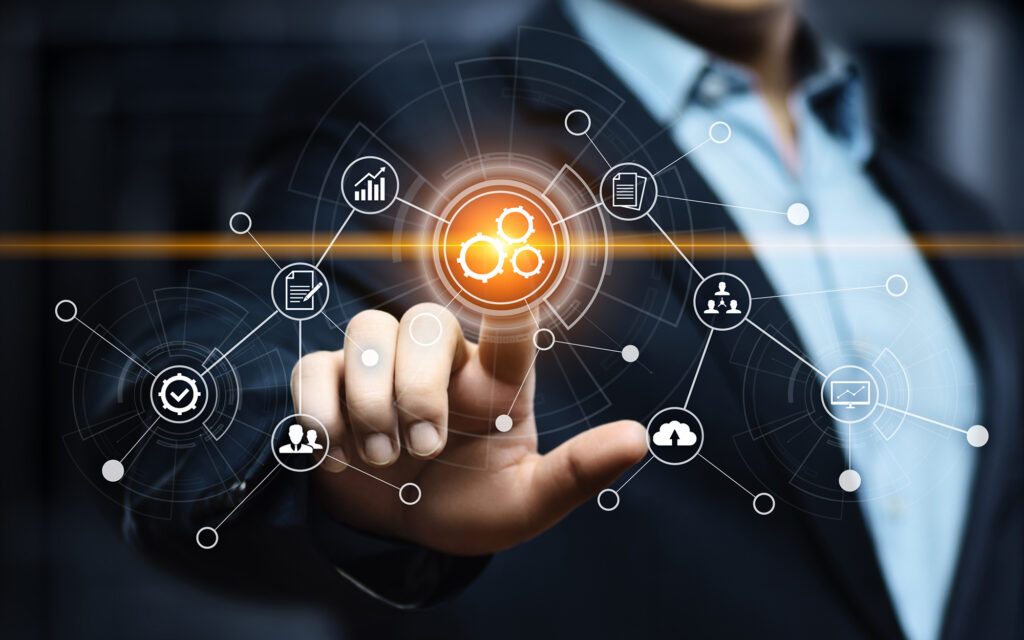 4. Dot Compliance eQMS Essential Elements
Electronic Document Management
You can generate, edit, process, update, and save documents using an electronic document management system that also supports photos, audio, and video files. Along with a single view of all the documents, it incorporates storing, scanning, and printing capabilities. One of the biggest advantages of having an effective electronic document management system is that it interfaces with other programs like your company's ERP and CRM, allowing you to automate workflows involving documents.
For regulatory purposes, internal and external audits, as well as inspections, documents are crucial. Therefore, an electronic document management system should provide for the traceability of every modification made to the document, as well as the recording of the change's author, its content, and its time.
Training
Today, many quality teams find it difficult to determine whether their co-workers are familiar with the most recent protocols and training needs.
The difficulty increases when used in a remote setting, with various training aids, or with a paper-based approach. Without total faith in their organization's compliance, quality managers scramble to get signatures for training.
You may assign training based on roles and responsibilities, including in-line assignments, with Dot Compliance's quality management system.
To make sure you stay in compliance, create training routines for recently authorized documents, issue reminders automatically, and produce reports demonstrating training status.
Automated Complaint Management
The Dot Compliance eQMS improves complaint handling. Data collection, routing, and escalation of overdue actions may all be automated with simplicity.
Our automatic procedures make certain that the appropriate person or user group is informed when tasks associated with complaints are allocated to them. Using pre-defined forms, the system enables automatic linkage and processing of Corrective and Preventive Actions (CAPAs). Depending on the severity, it is simple to produce and assign any number of Corrective and Preventive Actions (CAPAs). Tasks that are past due might be escalated to supervisors right away.
Change Control
Our software for change management enables complete traceability. You can clearly see the precise modifications that were made, along with when, who made them, why, and what effect they had.
Our completely integrated system enables you to efficiently manage modifications such as engineering change orders (ECOs), document changes, manufacturing changes, and other changes, regardless of whether the change was prompted by a nonconformance, CAPA, or other problems. simply because everything is stored in a single centralized system and all quality procedures are interconnected.
Corrective and Preventive Actions (CAPAs)
CAPA are simple with Dot Compliance's eQMS. Data gathering, routing, follow-ups, alerts, approvals, and escalation of late actions may all be automated.
When tasks are given to the appropriate people, CAPA software makes sure they are informed. With automatic linkage and processing of Corrective and Preventive Actions, the system keeps track of non-conformances, audit results, deviations, complaints, and other concerns (CAPAs). Depending on the severity, you can develop and assign any number of Corrective and Preventive Actions (CAPAs).
Risk Management
You may connect risk management paperwork to goods, parts, suppliers, clients, and machinery with Dot Compliance.
Make dashboards to gain an accurate depiction of risk across products and processes and to review your current risk paperwork.
Quality Events
A quality event is a quality issue that has to be evaluated and prioritized to decide whether it needs to be escalated and to whom. Without first establishing what the occurrence is, it is the responsibility of quality management to instantly record all of its details. This makes sure that nothing is lost and that each and every choice is recorded. When quality events occur, an organization displays consistency and control by recording all incidents and the procedures used to identify what kind of quality events they are.
Deviations/Non-conformances
You may swiftly escalate past-due tasks to supervisors using Dot Compliance, and you can connect failed issues to associated workflows like product management or electronic batch records. With less effort, shorter deviation cycle durations result.
You may use Dot Compliance to make sure that the appropriate people are informed when nonconformance-related activities are delegated to them. Using pre-defined formats, enable automatic linkage and processing of corrective and preventive actions (CAPAs). You may quickly create and assign any number of corrective and preventive actions, depending on the severity, for completion (CAPAs).
Supplier Quality
Strict supplier vigilance is required by modern quality management.
However, protracted certification, unmonitored records, and sporadic visibility all erode your supplier relationships, limit your ability to exert control, and leave you vulnerable to third-party risk.
Use Dot Compliance to implement risk-based policies, define audit cadences, and mandate documents to fully control your supplier management landscape.
Audit Management
Track and manage all of your audits in one location to make it simpler and quicker to identify and address any potential problems. The automated data collection, routing, alerts, follow-ups, approvals, and activity escalation features of the Dot Compliance audit management software system are available.
There are several choices for QMS software available today. In most cases, companies have the option of purchasing access to just those modules or areas they choose, or they may buy the whole suite, which contains the majority, if not all, of the QMS's sections. Electronic QMSs are a must-have for larger firms to ease the load of having to keep track of all the paperwork. Having a QMS system that can be accessed from anywhere is essential for maintaining productivity and ensuring happy employees who have a better work-life balance as remote or hybrid work becomes more prevalent.
Although the need for QMS software may not always be immediately apparent in smaller firms, it may still be advantageous to the business. Personnel in smaller firms sometimes serve many roles, and the QMS can assist in optimizing processes so that staff members spend less time on document and records management. The program may be used to preserve vendor and training records, making it simple to determine when suppliers need to be re-evaluated and to demonstrate that all training records are in order to auditors. If the system is clear-cut and simple to use, time savings should eventually cover the cost of the system.
Be careful to consider validations, 21 CFR Part 11 compliance, and modules and procedures that make sense for your company when selecting an electronic QMS. A new QMS might be difficult to set up initially, so take into account whatever setup assistance the firm offers. Document control and training records are often ideal options to start with if you're just dipping your toe into QMS software. These laborious, time-consuming operations require input from several users and are best managed in an electronic QMS system.
Searching for the top eQMS utilized by experts in quality like you? Visit Dot Compliance.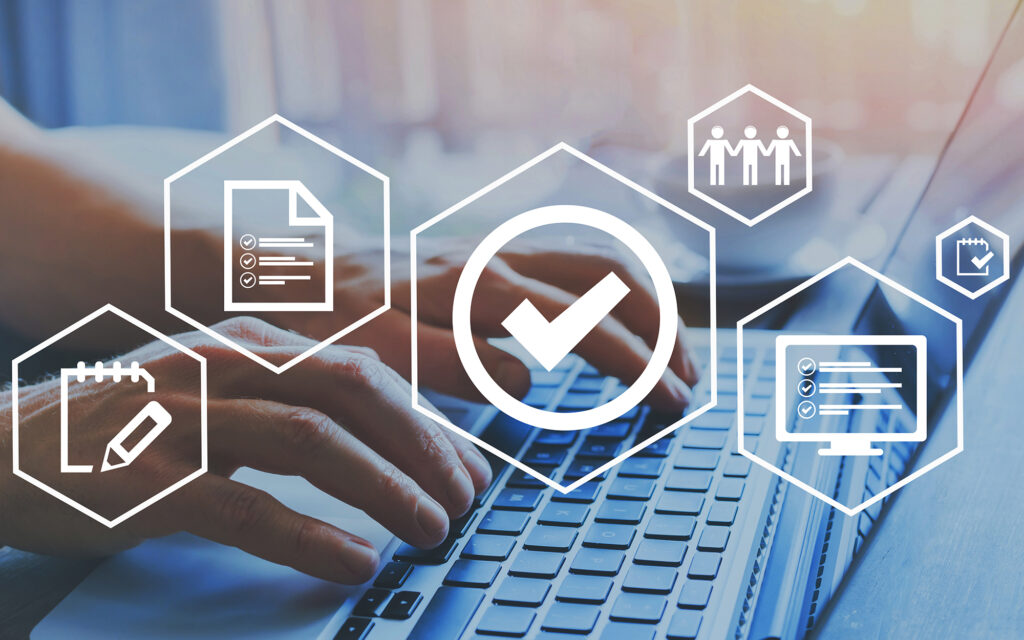 5. Ensuring Compliance with ISO 9001, EU MDR, FDA & More
ISO 9001 Conformity
One of the worldwide quality standards in the ISO 9000 family, ISO 9001:2015, is regarded as the most extensively used method for quality management systems. Many businesses base their own quality management system development on ISO 9001. Other ISO guidelines pertaining to QMS include:
ISO 13485 (QMS for medical devices) (QMS for medical devices)
ISO 14971 (Risk management for medical devices)
ISO 9004 (Guidance for sustainable success/Continuous improvement)
Compliance with the U.S. Food and Drug Administration (FDA)
Medical device, biotechnology, and other life sciences businesses are required by the FDA to set up and adhere to quality systems that guarantee their goods continuously fulfill the standards and regulations for the American market.
According to Title 21 CFR Part 820 of the FDA's quality system regulations, medical device makers are required to create and adhere to current good manufacturing practices (CGMPs) for the creation, production, installation, and maintenance of secure and reliable devices4. The FDA is anticipated to update its present Title 21 CFR Part 820 quality system regulation in the near future to more closely resemble ISO 13485. This will make it possible for makers of medical devices to have a more internationally standardized QMS.
The foundation of ISO 13485 and the FDA's quality system regulation is design controls. The processes and practices required for each design phase are laid forth by the FDA. These design controls regulate the procedures used in the creation and introduction of new products (NPDI). The FDA also specifies how businesses must prove compliance. Included in this is the delivery of two documents serving as proof of compliance: the design history file (DHF) and the device master record (DMR).
Medical device businesses must also abide by FDA Title 21 CFR Part 11 if they use electronic systems to monitor DMRs, staff training records, corrective actions, or other data that needs traceable documentation as part of their QMS. This rule specifies the standards that must be met in order for electronic records and signatures to be regarded as reliable, trustworthy, and usually equal to those made on paper.
EU MDR Conformity
The European Commission's EU Medical Device Regulation 2017/745 (EU MDR) establishes regulatory requirements for medical devices in the European Union (EU). To be sold in the European Economic Area, medical devices and other items covered by the EU MDR must have the Conformitè Europenne (CE) Mark (EEA). The CE marking (symbol) is a manufacturer's certification that a product complies with all relevant European laws or regulations regarding consumer protection, safety, health, and the environment.
6. Quality Management System Development
A Quality Management System (QMS) is frequently seen as a medical device company's necessary evil—something you have to have in order to comply.
A QMS is frequently viewed as a set of protocols that specify the guidelines and limitations that must be adhered to in the quest to design, develop, and produce medical devices.
Few people agree that a QMS is helpful, and to be really honest, the majority of businesses use a QMS that is mostly rule-based, restricted, onerous, and unsuccessful.
A quality management system is often established by addressing compliance with legislation, which can occasionally result in a direct repetition of the requirements outlined in ISO 13485:2016 and other quality system standards and laws.
This tutorial might not be for you if you think a QMS is only a way to show that you are in compliance with regulations and see no problems with this approach.
In our opinion, a quality management system (QMS) should be a collection of procedures that assist me in managing a better, more effective company that focuses on real quality and what is best for the patients who will be using my medical products.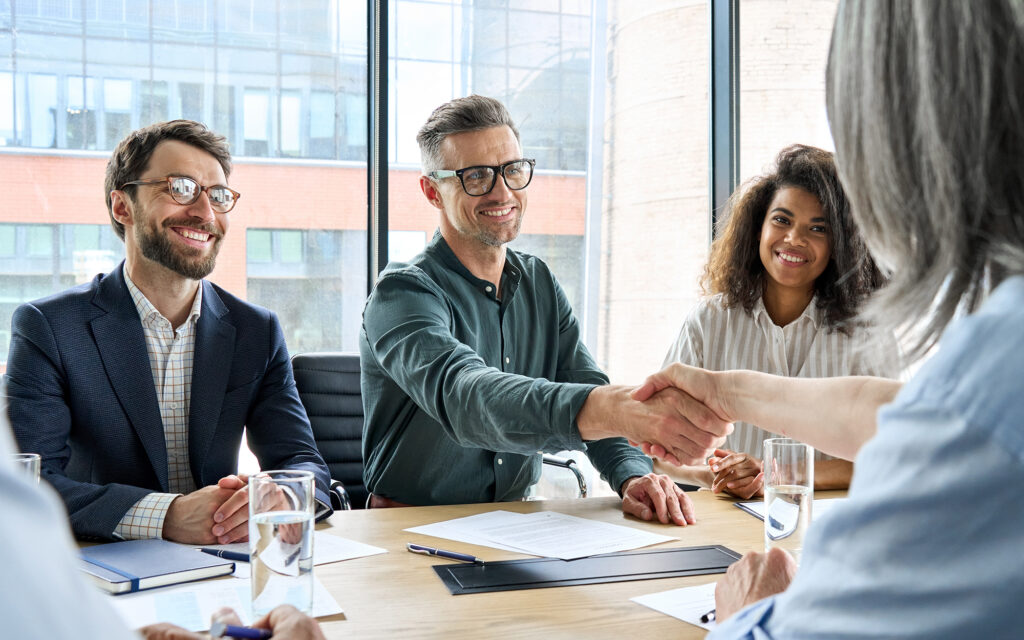 7. The Bottom Line
Dot Compliance can assist your business by offering QMS consulting services with knowledgeable ISO experts with expertise in a range of sectors. Please feel free to contact us if you have any queries about QMS or our QMS software platform.
Because it requires a team to continually provide and enforce outstanding standards that foster confidence with clients, business partners, and the community, we at Dot Compliance believe that quality is everyone's business. We are a capable team of professionals that can offer consulting assistance and guidance on leveraging technology platforms for your business along this trip.
News, articles, and resources, every month.
Subscribe to our newsletter