Suffering from QMS Fatigue? You are Not Alone.
QMS Fatigue: It sounds like a real illness. And although it's not as defined as such by medical journals, it is a syndrome that inflicts many professionals in their respective life science organizations.. Yes, Quality Management System (QMS) fatigue is real and has become an impediment to growth and innovation for many companies that require the use of such systems. QMS systems have been around for decades and many life science organizations are either stuck using outdated legacy systems or haven't even taken the plunge to deploy an automated QMS. The onset of COVID-19 has further amplified the extent of the problem across multiple organizations, as so many people are working remotely.
Quality and compliance process automation is a complex challenge that many life science organizations face. At mid-sized organizations especially, it can cause people to feel overwhelmed and confused about how to address the need for digitization and how to stay abreast of the ever-changing regulatory landscape. It doesn't help that the space is filled with noise, where dozens of QMS vendors are claiming to offer best-in-class solutions.it causes digitization indecision and analysis paralysis and it's no wonder that we are currently witnessing QMS fatigue at this level of magnitude.
But what is QMS fatigue anyway?
The term "QMS fatigue" has been recently coined to define the inability of an organization to move away from antiquated QMS platforms that have been around for many years and have run their course. QMS fatigue strikes those who feel stuck using an outdated, typically legacy type of  QMS solution that poses many limitations. Such systems do not address current quality and compliance needs but most importantly, cannot leverage the significant advancements in modern technology for the benefit of the organizations using them. Aside from a handful of early adopters, a majority of organizations are still delaying their decisions to move to new QMS technology, ultimately creating "fatigue" amongst their direct users and other stakeholders that are impacted by the QMS ecosystem.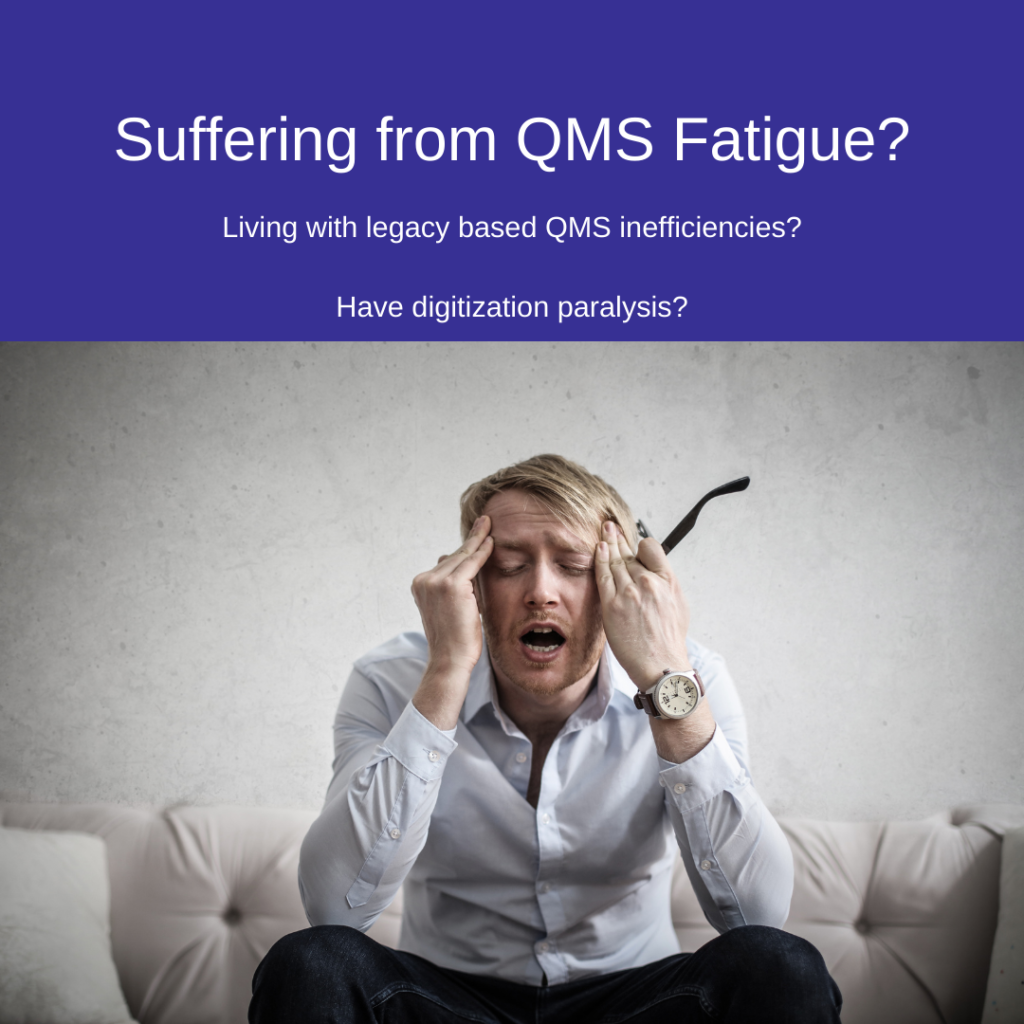 Symptoms of QMS fatigue?
The most common symptoms of QMS fatigue include, but are not limited, to the following:
Living with inefficiencies. The majority of legacy QMS are on-premise software. On-premise software carries a wide array of limitations centered around minimal collaboration, inability to make changes and modifications in an easy, fast and business friendly manner, and non-intuitive user experience.
Swivel chair phenomena – Older QMS software were often set up as "modules" often different from one another and not easily interconnected if at all. QMS business users are often required to log into separate "modules" to conduct their work (end-to-end) and/or to be able to exchange data and information in a streamlined way. Availability of reports, or other analytics is typically required to be performed manually or with a separate reporting tool.
Disjointed ecosystem – Older QMS systems are very siloed by nature. They are not meant to support the modern distributed nature of organizations especially in the era of globalization. This creates gaps in information flow and exchange amongst all stakeholders that need to take part in QMS business processes (suppliers, customers and other 3rd party stakeholders). This results in real barriers for collaboration and weak links that ultimately impact overall quality management activities, not to mention increased business risk.
Costly maintenance and upgrades – Legacy QMS systems have historically required full IT involvement as they were not business friendly and required periodic revalidation. They also require acquiring and maintaining hardware in addition to the software. Annual maintenance costs, as well as the need to upgrade and update the hardware, continue to serve as a significant cost burden to organizations.
QMS fatigue also affects quality professionals in smaller organizations that are still using a paper-based or home-grown system which limits their ability to handle the growing volume of tasks and requirements. To top these challenges, fatigue also sets in when quality management organizations are bombarded by varying messages from different vendors, making claims that create an insurmountable amount of confusion about how to automate processes. All these scenarios ultimately have negative impacts on the organization and hinder digitization.
How to cure QMS fatigue
Luckily, it is possible to break out of the QMS deadlock and reduce QMS fatigue, The recent pandemic has served, in more than one way, as an accelerator for change and antidote to QMS fatigue. Quality and compliance professionals struggled to manage their day to day business processes due to a shortage of resources and the inability to go onsite due to on-and-off lockdowns and work from home orders.. As a result, a new window of opportunity has emerged to truly take a step forward in moving away from antiquated systems and consequently eliminating QMS fatigue completely.
The following are recommended actions companies and users can take to remove QMS fatigue once and for all:
Adopt a pure cloud based SaaS Quality Management System. Cloud solutions completely remove the need to manage technology internally, yet open up numerous options such as:

Seamless collaboration across all sites, all stakeholder – anywhere, anytime and regardless of the circumstances.
A more unified look and feel across different disciplines/modules making adoption and onboarding easier and faster
Removal of dependencies on IT resources and infrastructure. The SaaS vendor takes care of that.
Continued benefits from new functionality and technology introduced by the vendor (ongoing appreciating "asset" as opposed to depreciating).
Ability to conduct changes fast and easy to adapt to the business changes as they occur (remove barriers for fast changes as business admins can conduct changes on their own without the need of IT support).

Technology innovation – take advantage of the latest and greatest technology especially when it comes to applications of AI and Machine Learning concepts, big data analytics and more. Move from older "reactive" mode to "proactive" and predictability with support of new technologies that have not been available in legacy QMS systems.
Vendor consolidation – some modern SaaS solutions offer a "one-stop-shop" value proposition allowing organizations to consolidate disparate systems they might be using today into one single technology platform. The advantages of this are numerous ranging from cost savings to lower barriers to user adoption and interconnectivity of "everything to everything" (as needed).
Ready to use solutions – move away from lengthy QMS implementation projects (which are still the norm both with legacy solutions and some newer ones) to adopting QMS solutions that offer a "fully furnished, move-in ready" implementation. This paradigm shift allows business to adopt very quickly best practices at a lower cost without the need to invest huge amounts of resources (both monetary and personnel) making a transition from "old" to "new" much easier and less painful.
In conclusion
QMS fatigue is real and once quality and compliance professionals accept this, it is possible to make a case for change. Technology innovation today can no longer be viewed as an inhibitor to progress; rather it can be a catalyst for change. You don't need to suffer with antiquated QMS solutions; let us help you beat QMS fatigue!
News, articles, and resources, every month.
Subscribe to our newsletter